Strip & Wax Cleaning
Do you have a floor care program in place for your business?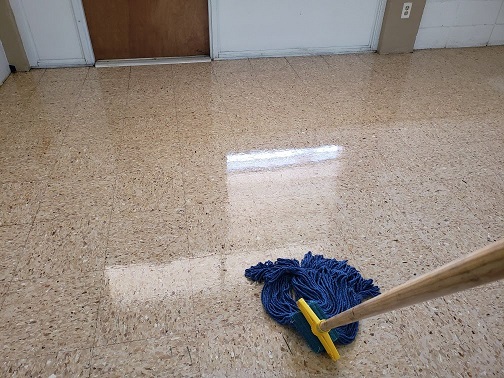 Finished floors are often one of the biggest investments an establishment can make. As a result, protection and maintenance become critical tasks for cleaning professionals. A great first step towards protecting finished floors is implementing a mat program.
Outdoor and foyer/entryway area mats can remove much of the dirt and debris from shoes, preventing them from being tracked inside and onto your finished floors. Inside, matting can also help to remove the final bit of dirt, including moisture.
Miami Top Cleaning can offer you a floor care program to help you improve and maintain the appearance of your floors. We specialize in marble, concrete, and VCT floors. In the current economic climate, businesses of all types are challenged with maintaining finished floors with limited budgets and personnel.
Gym floors can be a living, breathing organism; there is rarely a time when they are not being used or are not in demand. The most common gym floor, when you think about the term, is the floor found in schools at every level and sports arenas. No matter where these floors are, chances are they take a daily beating.
While the average life expectancy of a floor can range from 15 years for vinyl tile to upwards of 50 years for wood flooring, this number can decrease dramatically if daily maintenance is not performed.
Damage can take place in the form of water damage or from more frequent sanding due to the "faster breakdown of water-based finish versus oil finish or from the incompatibility between finishes and/or paint.
Floor Stripping
Floor stripping involves the complete removal of old wax on a floor. Doing so also gets rid of any soil and debris that might have accumulated on the surface. It is a job that calls for a well-trained professional since it not only is time-consuming, it needs to be performed with great care in order not to damage the floor itself.
Here are some of the skills our technicians at Miami Top Cleaning Services will put in place when stripping your floors to give you the desired results:
Our technicians are trained and experienced. They do not use your floor as a training ground.
They are familiar with the type of cleaner required and know which one to apply depending on the type and quality of the floor.
Our team always shows up with all the needed equipment. This way, they are ready to start tackling your floor with no delays.
They will always bring clean mops and buckets and never drag dirt from one job to the next.
Our technicians are always equipped with safety clothing, gloves, goggles, and non-slip shoes.
Safety cones are always carefully placed around the work area to prevent anyone from accidentally slipping and falling.
When the floor to be stripped is quite large, our team members know that the area will be stripped by sections and they will not move over to the next until the one they started working on is finished. They always use cold water to dilute the stripping agent and allow the proper amount of dwell time. After that, they will run a defoamer with wet/dry vacuum to pick up any slurry off the floor to minimize foam buildup. The process takes time, and our cleaning professionals will never rush a job. They will do it right the first time, so it doesn't have to be done again.
At Miami Top Cleaning Services, we stand for reliability, quality, and commitment to service. We know how to determine the most convenient approach to deliver exceptional results. When you need floor stripping and waxing commercial services, you can count on us to deliver the best foundation on which to apply a layer of wax. Give us a call today.
Floor Waxing
Once stripping has removed all old layers of wax, dirt, and debris, a fresh coat of wax should be applied to make sure the floor is protected and will serve you well for many years to come. However, before the wax goes in, it is important to apply two coats of sealer to prepare the floor to receive the wax evenly.
If your floors have been properly stripped and sealed, you may be able to skip this process for a while and just apply wax as needed, which is a bonus, particularly if your floors are old and have become more porous. The wax will then serve to reduce the number of visible scratches and accumulation of dirt on your floors and give you the shiny floors you expect.
Floor Buffing
The final step in the process is buffing. This is done not only after the stripping and waxing process is complete but also at regular intervals to keep your floors clean and bring out the shine. It also lengthens the time you can go between waxing. We will be glad to inspect the condition of your floors and suggest a regular buffing schedule for your floors.
At Miami Top Cleaning Services, We Clean All Floors
Our stripping and waxing floor services cover all sorts of floors, whether they are vinyl, laminate, vinyl composite tile, sealed cement, tile, wood floors, and more.
The look of your floors has to be impeccable. After all, this is what your customers and guests will see as soon as they step in. A well-maintained floor gives a good impression and speaks well about who you are as a business. Let Miami Top Cleaning Services maintain your floors to your exacting standards so you can concentrate on running your business. Keeping your floors in their best condition is our specialty. Schedule your regular floor maintenance routine with us. We are ready to help you show off your floors with our floor stripping and waxing services.