Commercial Window Cleaning Miami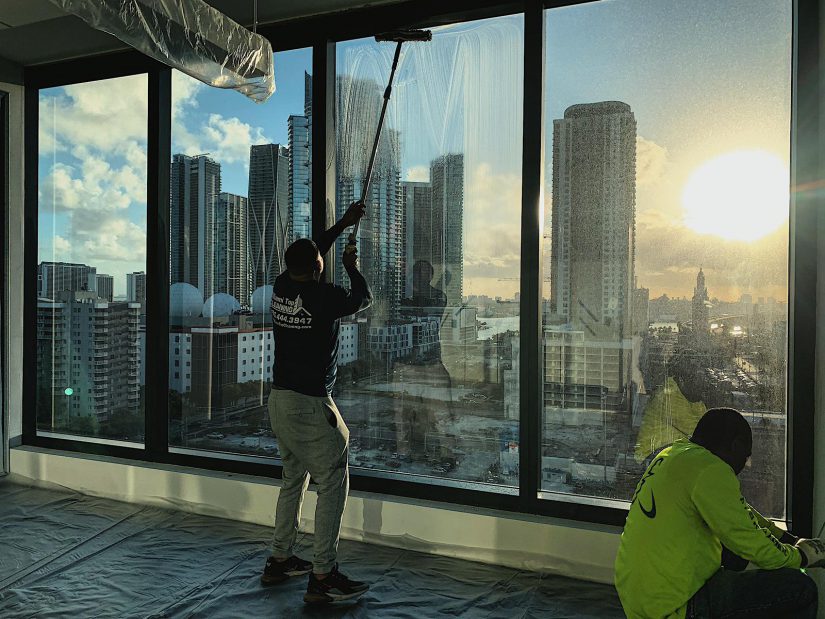 Presentation is important in business – whether you are pitching an idea, advertising a product, presenting data, offering services, or displaying merchandise. In many situations, the quality of your presentation can affect the success of your project or product. This includes your commercial space or office – A commercial space that appears dirty or neglected can give a negative impression of your Miami FL business, and dissuade potential clients from your products or services.
Clean, streak-free windows help create an appealing, professional atmosphere for your business. However, obtaining clean windows is not simply a matter of a little cleaning spray and a rag. Rags and store-bought cleaners do not effectively disinfect windows, and often leave streaks and smudges no matter how hard you scrub. For commercial buildings, professional window washing services are the best way to keep your windows clean.
How Often Should I Clean My Windows?
Ideally, windows should be washed twice a year, but few people look forward to the process. Part of what makes window washing such a chore is that many people insist on doing it with old rags, wadded-up paper towels (or newspaper), spray cleaner, and a ton of elbow grease.
All that rubbing is not only time-consuming but ultimately ineffective. Instead of removing the dirt, you are simply spreading it around from one spot to another and putting a static charge on the glass, which attracts even more dust and dirt. As soon as you finish, the window will look dirty again.
Clean windows will transform any office space. Contact Miami Top Cleaning today, and our team will show you what a difference professionally cleaned windows can make on your business's appearance!
The Importance of Window Cleaning in Miami
As often as we hear travel companies extolling the plentiful sunshine available in Miami FL, you might expect to see immaculate windows on every residence and commercial building, allowing that sunshine to illuminate rooms and offices. However, that is not always the case, and people seem to forget the beauty of allowing natural light to come in through the windows, making even the darkest offices appear brighter and more attractive. When your commercial windows are professionally cleaned, people working in or visiting those areas will be much more comfortable because the overall appearance of the building will be improved.
Ignoring your windows for long stretches of time gives them a chance to become dull and covered with contaminants such as dust, hard minerals, acid rain, oxidation, spray paint, and other substances that prevent light from entering the building, creating a dull appearance on the windows and dimming the light allowed into the building. But when your windows are properly cleaned, and that film of dust and other contaminants are removed, rooms appear more bright, airy, and spacious, creating a more appealing atmosphere to you, your clients, and your employees. This effect can also raise the property value of your commercial building.
Advantages of Having Your Windows Cleaned
You would never imagine that something as simple as having your windows professionally cleaned can help prevent a variety of health issues, but it does. Dirt and grime on windows not only make them look dull, but the dust that has settled on them tends to increase the growth of substances such as mold and fungus, which can cause allergic reactions and breathing problems. Also, studies have shown that exposure to sunlight helps improve the people's mood and staves off depression, a benefit for people who work in or visit your building.
Having your windows cleaned on a regular basis will maximize these benefits, and help to extend the life of your windows. The buildup of abrasive contaminants such as dust or acid rain can wear away at your windows, weakening them over time. Regular cleaning will eliminate all environmental contaminants from the glass surface, helping to ensure that the window glass will last longer. Our team of professional window cleaners will remove all contaminants and maintain the integrity of your windows while maximizing the sunlight allowed into your office or building.
FAQ:
What types of commercial windows do you clean?
At Miami Top Cleaning, we specialize in cleaning and pressure washing many types of commercial windows, such as:
Interior and exterior windows
High-rise window cleaning
Skylights
Screens
Sliding doors
Glass rail panels
How often should I have my windows cleaned?
This is not as simple of an answer as it might seem. In general, we recommend that you have your exterior windows cleaned twice a year, but we understand that circumstances can make each window cleaning job different.
If you just finished remodeling your commercial building, have windows which are level (or almost level) with the ground, or if your business is located near a construction area, then you may need window cleaning much more frequently. Also, if there has recently been an extreme weather event such as a hurricane or severe thunderstorm, then you may need window cleaning services right away. Our window cleaning technicians are ready to tackle even the dirtiest windows whenever you need our window cleaning services.
Can you clean graffiti?
The buildup of dirt and grime are not the only reasons that your windows might need a professional cleaning service. In many commercial areas, there are occasions when business owners or employees arrive for work to find that someone has vandalized the building by spray-painting or throwing sticky, corrosive substances (such as eggs) against the windows. While there are some paints which are safe to use on glass (and indeed are popular for advertising or holiday decorations), many types of paint can be corrosive, and graffiti simply makes your commercial building look bad.
Miami Top Cleaning can send a team out to quickly clean up the mess, using government-approved cleaning solutions and disinfectants to get your windows looking brand-new again. Contact us immediately to remove unsightly graffiti before it negatively impacts your business.
Do you offer commercial window cleaning services?
We not only offer commercial window cleaning services in Miami FL and the surrounding areas, we also offer pressure washing services, and we love our commercial clients. At Miami Top Cleaning, we understand that a clean commercial establishment will be beneficial to your business, your employees, and most importantly, to your clients. We also know that you have to deal with airborne dirt and dust, as well as with handprints on windows that leave unsightly smudges. From the smallest storefront to the largest commercial building, we offer the commercial window cleaning service you need.
Among the items our commercial window cleaning specialists clean, you may find:
Storefront windows
Sliding doors
Glass doors
Window screens
Specialty windows
French doors
Skylights
Windows with awnings
Commercial window cleaning can be performed as frequently as your business requires. We can set up a recurring service schedule to fit your needs because we know that both your customers and employees deserve to be in a healthy and safe environment. And if you have a special event or emergency, we will be there to clean your windows as soon as you need us.
Why is window cleaning so important?
Many people probably believe that the only reason windows should be cleaned is to make them look nice, which is of course a valid reason. However, there are other important reasons why windows should be cleaned, such as:
To improve the curb appeal of your business
Windows that sparkle and shine are not only inviting, but they improve the curb appeal of the property and may also add to its value.
To prevent glass degradation
Windows are hit with all sorts of particles and materials. Contaminants such as dust, acid rain, and hard water, will wear away at the window over time, degrading the glass structure. Over time, you may notice light scratches or cracks starting to appear. Eventually, these scratches and cracks can spread, further degrading your glass strength. Left too long, the glass may eventually shatter, requiring an expensive replacement.
To improve air quality
Dust particles that settle on window sills may also contain mold and fungus spores that, if left untreated, may grow and diminish the quality of the air that you, your customers, or employees breathe in your office or business. Long-term exposure to these hazardous substances may eventually lead to lung problems or other medical conditions. If the air you are breathing smells bad or is stagnant, calling our professional window cleaning services can quickly help fix the problem.
To create an enjoyable view
One of the benefits of high-rise commercial buildings is the beautiful view available. And living in South Florida means you may have a stunning cityscape view or a relaxing sight of Miami's beach on the horizon. Many people also enjoy a nice view from the ground floor as people pass by, or to enjoy the tropical landscaping that is planted just outside the building. Forget about the grimy windows that darken your office and let the sunlight shine in with a thorough and professional window cleaning.
Should I clean my own windows?
Window cleaning is not only time-consuming but, depending on the height of your windows, can also be very dangerous. This can be seen in the number of individuals that end up in the hospital every year after watching an online DIY tutorial, then attempting clean their own windows without the proper equipment or training. Even professional window cleaners, who are trained to clean windows at great heights, have been injured due to faulty equipment or careless behavior.
Your safety is more important than trying to save a few dollars on cleaning services, and if you are injured, it is quite likely that your hospital bill will probably end up costing more anyways. Getting a professional window cleaning company to do this commercial maintenance chore will guarantee that the job is done right, that neither you nor your property suffers any harm, and that you may just relax and enjoy the benefits.
Window Cleaning in Miami-Dade
At Miami Top Cleaning, we are dedicated to providing the best services to our clients. For that reason, we only use the best cleaning products in our work. Call today or fill out our online form to get a quote for your business.