Windows Cleaning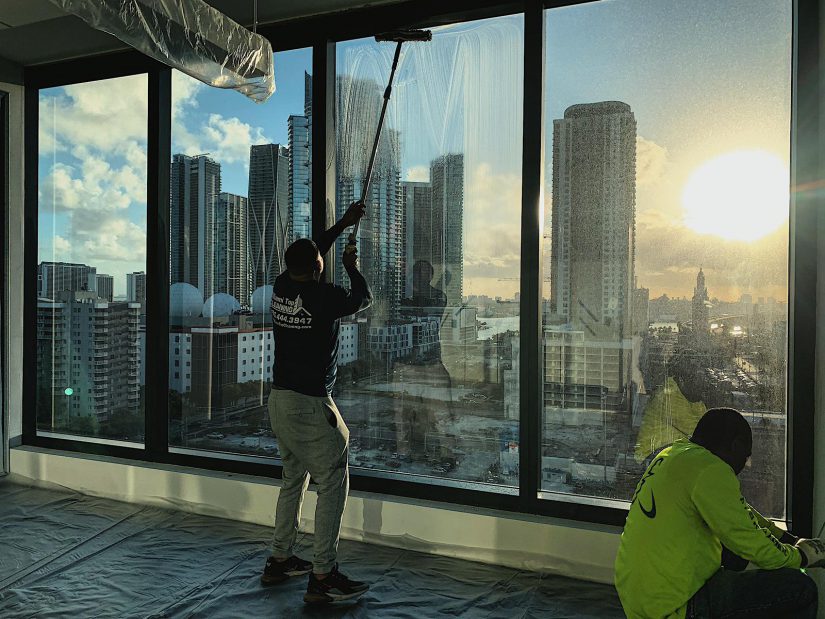 Ideally, windows should be washed twice a year, but it's a task most people don't look forward to. In Miami, part of what makes window washing such a chore is that business owners insist on doing it with wadded-up paper towels or newspaper, spray cleaner, and a ton of elbow grease.
All that rubbing isn't a good idea. You're just moving dirt around from one spot to another and putting a static charge on the glass, which attracts dust and dirt. As soon as you finish, the window will look dirty again.
A top-notch commercial window cleaning company such as Miami Top Cleaning can provide professional pressure washing and power washing services to all kinds of commercial establishments. If you expect quality work from trained professionals in Miami, then contact Miami Top Cleaning today! 
Advantages of Regular Window Cleaning in Miami
You would never imagine that something as straightforward as having your windows professionally cleaned can help you prevent a variety of health issues, but it does.
Here are some benefits of getting your windows cleaned regularly:
Regular window cleaning in Miami helps even the darkest offices and businesses look brighter and more attractive.
In Miami, dirt, and grime on windows not only make them look dull, but the dust that has settled on them tends to increase the growth of substances that cause allergic reactions and breathing problems.
Allowing the sun's light to flood indoor areas will allow people to live and work inside to receive much-needed vitamin D.
The glass will last longer when you rid its surface of all environmental contaminants, thus preventing your windows from becoming weaker and at risk of breaking down.
Make sure to keep these health benefits alive by having clean windows. In Miami, our window cleaners will remove all contaminants via pressure cleaning and maintain the integrity of your windows while letting all the sunlight in.
Miami Top Cleaning – Best Professional Window Cleaning Company
Miami Top Cleaning is a highly sought-after window cleaning company in Miami, FL. We provide customized cleaning programs to our clients and strive for optimum customer satisfaction. From office cleaning to window cleaning to post-construction clean-up, we provide all kinds of commercial services for window cleaning.
Our mode of operating consists of visiting the establishment and gauging the work that needs to be done, based on which, we would provide you with a quote upfront. This way, we ensure utmost transparency between our company and our clients. We don't like to have any communication gaps with our customers, which is why you can trust us to meet all your needs on time. If you require window cleaning services in Miami, contact Miami Top Cleaning today to schedule a visit. We'd use all the methods to ensure clean windows in your commercial establishments.
Being based in Miami, FL, we understand that a clean commercial establishment will benefit your business, your employees, and, most importantly, your clients. We also know that you have to deal with airborne dirt and dust, as well as with handprints on windows that leave unsightly smudges. From the smallest storefront to the largest commercial building, we offer the window washing services you need.
Commercial window cleaning can be performed as frequently as your business requires in Miami, FL. Whether the high-rise windows require power washing or pressure cleaning, our trained professionals offer only quality work that supersedes the expectations.
We even help set up recurring commercial services scheduled to fit your needs because we know that both your customers and employees deserve to be in a healthy and safe environment. If you have a special event or emergency, we will be there to clean your windows as soon as you need us.
What To Expect From Miami Window Cleaning Service
In Miami, commercial window cleaning isn't just about scrubbing a piece of cloth over visible stains on the window. The intricate process ensures that all kinds of stains and blotches are removed, and the windows are disinfected using government-approved disinfectors. Once we've cleaned your windows, rest assured, they will remain immaculate for months and months to come. Miami Top Cleaning company covers the following things as part of its window cleaning and window washing services.
Commercial Interior and Exterior Window Cleaning in Miami
Not only does Miami Top Cleaning company clean the interior of the windows, but it also uses state-of-the-art heavy-duty equipment to get the exterior of the window squeaky cleaned. This is what sets us apart from the local window cleaners. Connect with us for emergency window cleaning today.
Miami High Rise Building Commercial Window Cleaning in Miami
Our window cleaners would scale any commercial building, however tall, and get the nasty stains removed from the windows. Since this job is extremely risky, we train our skilled cleaners to scale the building efficiently, and we only use tested equipment for this task. All our window cleaners are equipped with the required expertise and experience to perform pressure cleaning and washing on tall buildings.
Storm Window Cleaning and Pressure Washing in Miami
We also provide storm window cleaning and window washing as a part of our window cleaning services. If you require window cleaning of any sort in Miami, FL, schedule a visit with Miami Top Cleaning. In addition to everything mentioned above, we provide cleaning of the skylights, screen, sliding doors, and glass rail panels.
FAQs
What types of commercial windows do you clean?
At Miami Top Cleaning, we specialize in window cleaning all sorts of residential windows via various methods, including pressure washing:
Interior and exterior windows
High rise window cleaning
Storm windows
Skylights
Screens
Sliding doors
Glass rail panels
How often should I have my windows cleaned in Miami?
This is a question to which it is hard to give a single answer. Given the conditions in Miami, FL, we consider that you should avail windows cleaning twice a year, but we understand that circumstances can make each window cleaning job different.
If you just finished remodeling your house or if you are living beside a construction area, you may need window cleaning through pressure washing much more frequently. If you have lived through an extreme weather event, you may need window cleaning services right away. Our window cleaning technicians are ready to tackle even the dirtiest windows whenever you need our window cleaning services.
Why is window cleaning so necessary in Miami?
Many people probably believe that the only reason windows should be cleaned is to make them look nice. And that is a valid reason. However, there are other important reasons why windows should be cleaned, such as:
To improve the curb appeal of your residence or business.
Windows that sparkle and shine are inviting, and not only do they improve the property's curb appeal, but they may also add to its value.
To prevent glass degradation.
Windows in Miami are hit with all sorts of particles and materials. Starting with acid rain and hard water, these substances will damage the quality of the window over time. Slight scratches or cracks may start to appear. Leaving them with no maintenance for much longer may even result in a window that needs to be replaced.
Improve air quality
Dust particles that settle on window sills may turn out to be mold that, if left untreated, may grow and diminish the quality of the air you, your customers, your family, or your employees breathe in your home, office, or business. Long-term exposure to these hazardous substances may eventually lead to lung problems or other medical conditions. If the air you are breathing smells bad or is stagnant, calling our professional window cleaning services can quickly help fix the problem.
Enjoying the view
In Miami, letting the sun come in and enjoying the property's natural surroundings can bring enjoyment and tranquility. And living in South Florida means enjoying nature year-round. Forget about the grimy windows that darken your business and let the sunshine in with a thorough and professional window cleaning.