Windows Cleaning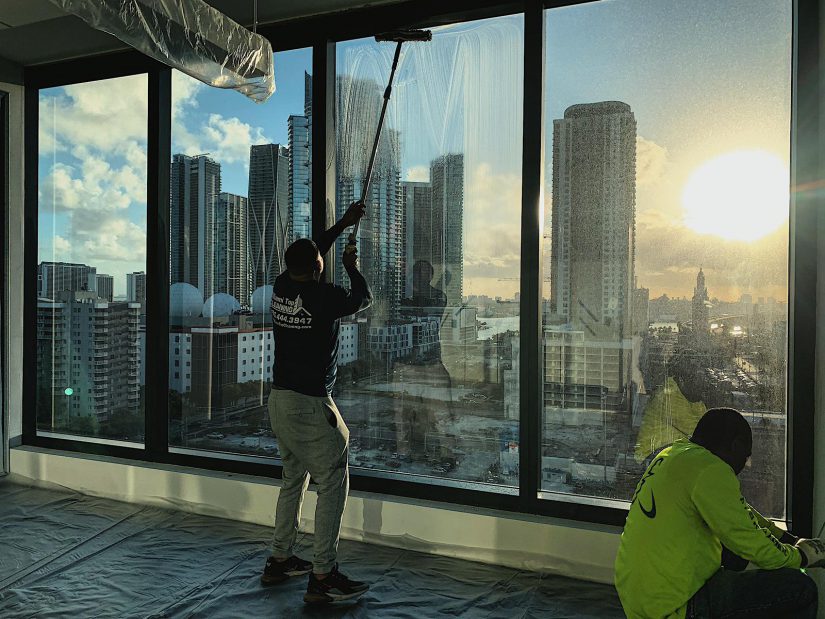 Ideally, windows should be washed twice a year, but it's a task most people don't look forward to. Part of what makes window washing such a chore is that business owners insist on doing it with wadded-up paper towels or newspaper, spray cleaner, and a ton of elbow grease.
All that rubbing isn't a good idea. You're just moving dirt around from one spot to another and putting a static charge on the glass, which attracts dust and dirt. As soon as you finish, the window will look dirty again.
It's easier and more effective to clean glass like the pros do: with a squeegee and a few other readily available tools. The techniques aren't complicated.
Clean windows will transform any living space. You don't know what you're missing until you get your windows cleaned.
Contact Miami Top Cleaning today!
The Importance of Window Cleaning in Miami
With the sun shining pretty much every day in Miami, you would think that people would be well aware of the importance of having their windows cleaned. However, that is not always the case and people seem to forget the beauty of letting all the natural light come in through the windows, allowing even the darkest offices and businesses to look that much brighter and attractive. When your commercial windows or the windows in a high-rise are professionally cleaned, people working in or visiting those areas will be much more comfortable because the overall appearance of the building will be improved.
Ignoring your windows for long stretches of time gives them a chance to become dull and covered with contaminants such as hard minerals, acid rain, oxidation, spray paint, and other substances that rob them of their natural beauty by preventing light from entering the building. But when light does come in, rooms seem to grow bigger and become more appealing to the point that the value of your property might be enhanced.
Advantages of Having Your Windows Cleaned
You would never imagine that something as straightforward as having your windows professionally cleaned can help you prevent a variety of health issues, but it does. Dirt and grime on windows not only make them look dull, but the dust that has settled on them tends to increase the growth of substances that cause allergic reactions and breathing problems. Also, allowing the light of the sun to flood indoor areas will allow people living and working inside to receive much-needed vitamin D.
Make sure to keep these health benefits alive by having your windows cleaned on a regular schedule. Also, the glass of the windows will last longer when you eliminate from their surface all environmental contaminants, thus preventing your windows from becoming weaker and at risk of breaking down. Our team of professional window cleaners will remove all contaminants and maintain the integrity of your windows while letting all the sunlight in.
FAQ
What types of commercial windows do you clean?
At Miami Top Cleaning we specialize in cleaning all sorts of residential windows, such as:
Interior and exterior windows
High rise window cleaning
Storm windows
Skylights
Screens
Sliding doors
Glass rail panels
How often should I have my windows cleaned?
This is a question to which it is hard to give a single answer. In general, we consider that you should have your exterior windows cleaned twice a year, but we understand that circumstances can make each window cleaning job different.
If you just finished remodeling your house or if you are living beside a construction area, then you may need window cleaning much more frequently. If you have lived through an extreme weather event, then you may need window cleaning services right away. Our window cleaning technicians are ready to tackle even the dirtiest windows whenever you need our window cleaning services.
Do you offer commercial window cleaning services?
We sure do and we love our commercial clients. At Miami Top Cleaning, we understand that a clean commercial establishment will be beneficial to your business, your employees, and, most importantly, to your clients. We also know that you have to deal with airborne dirt and dust, as well as with handprints on windows that leave unsightly smudges. From the smallest storefront to the largest commercial building, we offer the commercial window cleaning service you need.
Among the items our commercial window cleaning specialists clean, you may find:
Storefront windows
Sliding doors
Glass doors
Window screens
Specialty windows
French doors
Skylights
Windows with awnings
Commercial window cleaning can be performed as frequently as your business requires. We can set up a recurring service schedule to fit your needs because we know that both your customers and employees deserve to be in a healthy and safe environment. And if you have a special event or emergency, we will be there to clean your windows as soon as you need us.
Why is window cleaning so important?
Many people probably believe that the only reason windows should be cleaned is to make them look nice. And that is a valid reason. However, there are other important reasons why windows should be cleaned, such as:
To improve the curb appeal of your residence or business – Windows that sparkle and shine are inviting and not only do they improve the curb appeal of the property, but they may also add to its value.
To prevent glass degradation – Windows are hit with all sorts of particles and materials. Starting with acid rain and hard water, these substances will damage the quality of the window over time. Slight scratches or cracks may start to appear. Leaving them with no maintenance for much longer may even result in a window that needs to be replaced.
Improve air quality – Dust particles that settle on window sills may turn out to be mold that, if left untreated, may grow and diminish the quality of the air you, your customers, your family, or your employees breathe in your home, office, or business. Long-term exposure to these hazardous substances may eventually lead to lung problems or other medical conditions. If the air you are breathing smells bad or is stagnant, calling our professional window cleaning services can quickly help fix the problem.
Enjoying the View – It goes without saying that letting the sun come in and being able to enjoy the property's natural surroundings can bring enjoyment and tranquility. And living in South Florida means enjoying nature year-round. Forget about the grimy windows that darken your business and let the sunshine in with a thorough and professional window cleaning.
Should I clean my own windows?
Window cleaning is not only time-consuming but, depending on the height of your windows, can also be dangerous. Getting a professional window cleaning company to do this business maintenance chore will guarantee that the job is done right, that neither you nor your property suffers any harm, and that you may just relax and enjoy the view.
Window Cleaning in Miami-Dade
At Miami Top Cleaning your satisfaction is what we live for. Give us a call today or fill out our online form.